Traceability
Trace management made easy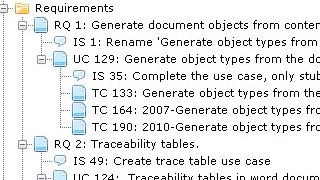 A traceability matrix or traceability table is a very efficient way to show the coverage of your design inputs. It is even recommended by the FDA in their Design Control Guidance For Medical Device Manufacturers.
Aligned Elements provides no less than five ways to set traces, each way optimized to a particular working context, including straight-forward drag-and-drop in most views.
The uni-directional traces can be set one-to-one, one-to-many, many-to-one or many-to-many, between any Item types. In this way you can not only define a requirements traceability matrix (RTM), but customize your traceability matrices to fit you needs. This also covers both backward traceability and forward traceability.
Finding missing, suspect and illegal traces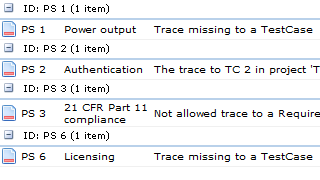 Modifications to Design Control Items highlight surrounding traces to indicate that further actions to related Items might be necessary as a consequence of the change.
Real-time trace analysis of any selected Item-set immediatly reveals any missing or inconsistent traces which can quickly be resolved.
Flexible Trace Matrix Analysis and Design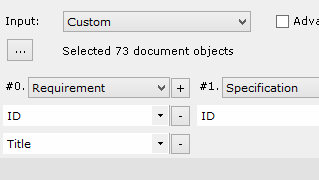 The built-in Trace Table Designer can be used to build your own customized trace tables on-the-fly.
Run the trace tables and inspect the results as traceability matrix, make modifications to the table design, or go straight to the Document Objects to set and remove traces.
The traceability matrix can also be exported as Word Trace Table Template to be used for Trace Table export in Word.
Traceability reports
Aligned Elements Word integration permits instant creation of multi-column trace reports with customizable look-and-feel. The synchronizable traceability matrix can be updated to the current database state with a single click.
Instant export of trace information on selected Document Object types to Excel or Clipboard is available from the Trace Explorer.