Test Management
Create and manage test cases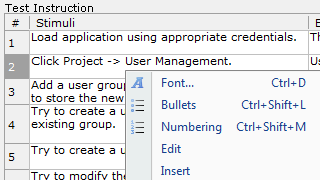 Define your test cases in Aligned Elements, based on the corresponding requirements, specifications and other objects.
The integrated review mechanism minimizes the effort for reviewing and releasing.
Execute test cases and track defects
The Aligned Elements test case execution provides a rich set of possibilities to record the data findings.
Defects can be recorded and traced on-the-fly without having to leave the execution context for as smooth testing experience
Manage test runs and track progress
Let your test team perform concurrent testing and track their results in Aligned Elements.
Follow the progress using the integrated check and chart capabilities, and let the automatic consistency checks detect missing traces, unexecuted test cases, overdue reviews and much more to close all gaps.
Use internal or external defect tracking
Aligned Elements is equipped with a Defect Tracking system which permits creation, editing and tracing of defects applying the same strict version control as applied on other artefacts.
You can also hook up your existing Defect Tracking system with Aligned Element and benefit from your existing infrastructure.