Identifying Risks using ISO 14971:2012 Annex C
Risk Identification is an early and essential part of the risk management process and ISO 14971 requires us to make a complete risk assessment, to identify ALL hazards.
But, how do we know if all of the hazards have been identified? How can we prove this?
You could brainstorm or have a whiteboard session gathering ideas that pop up, but the only way to truly achieve confidence in your risk identification process is by using a structured approach.
There are several techniques available depending on the assessed source, including:
Assessing established potential hazards from internal records or published standards
Analysis of the manufacturer's experience with similar medical devices
Conducting a User Task Analysis on the user's interaction with the device to uncover use errors
Assessing Field data and published incidents from similar devices in use
Assessing critical components for safe and effective use
Because of the difficulty involved with thoroughly identifying all of the hazards, ISO 14971 provides a number of aides – such as Annex C (2012) (becoming the ISO 24791 Annex A in the 2019 edition) – which provide a list of questions to assist in establishing device characteristics that may impact safety. Although not exhaustive, these questions can serve as a starting point and become one of several potential approaches from which the complete risk identification can be assembled.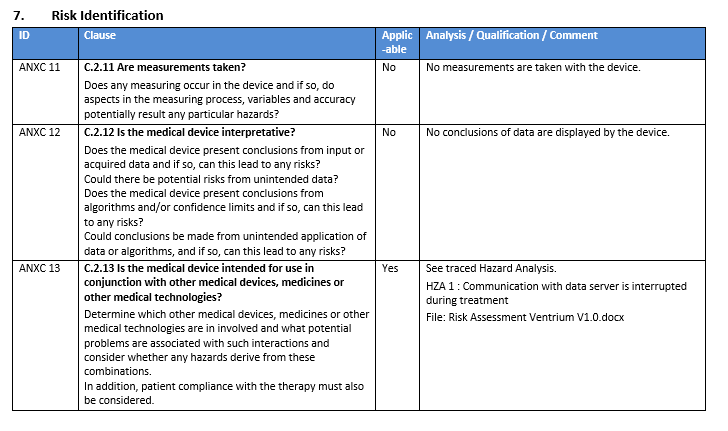 Aligned Elements users can kick start their risk identification process by downloading and importing our ISO 14971:2012 Annex C Extension, assessing them and start generating risks and mitigation.
The ISO 14971:2012 Annex C Extension contains:
RVT file for an ISO 14971 Annex C Question and a corresponding DOCX Reporting style template
37 importable questions built on Annex C in ISO 14971 to assess and integrate into your Risk Assessment
This Extension facilitates the assessment of the questions, the creation of both an automated assessment report of the Annex C questions as well as a starting point for generating new risks and mitigation.
It gives medical device manufacturers a predefined starting point when setting up their technical file with the intention of accelerating the documentation effort.
The user is of course welcome to expand this question list with questions that are particular for his/her device and the conditions under which it needs to operate.
The ISO 14971:2012 package can be combined with other risk identification packages from Aligned or in-house developed approaches by the manufacturer.
The ISO 14971:2012 Annex C package is free to Aligned Elements users.
For more information on how you can include our ISO 14971 questions in your risk assessment, contact the This email address is being protected from spambots. You need JavaScript enabled to view it. today.