Customization
Process independence
We all agree on that the Aligned Element should adopt to the organization and not the other way around.
Aligned Elements is process independent and does not restrict you from using your current work approach, minimizing the implementation effort.
Keep your naming conventions
For good reasons, each Quality Management System is different. Your team will feel familiar with Aligned Elements as you can apply your existing naming conventions according to your QMS to the system.
The Word documents exported from Aligned Elements are be based on your existing Word templates, allowing you to capitalize on your tested and proven work.
Company Specific Spelling Dictionaries
Aligned Elements integrates as-you-type spelling correction with more than 60 free dictionaries available, using wavy red lines to indicate potential flaws.
User Dictionaries can be set up for company or industry specific terms. Right-clicking on a spelling mistake presents a context menu with suggestions and options to Ignore All or Add to User dictionary.
Customised Text Styles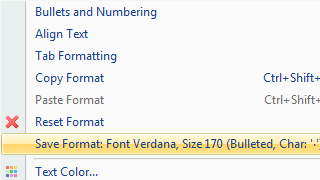 Set up your own rich text styles, save them and reapply them throughout the project.
The saved rich text styles are available for all project users from the context menu in Rich Text and Table attributes.