Consistency Monitoring
Real-time consistency checks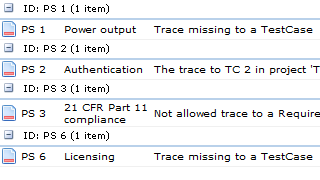 Eliminating the Design History File of any gaps and inconsistencies is of outmost importance for all medical device producers. Aligned Elements provides the industry's most extensive range of real-time consistency checks to find irregularities such as:
Missing, suspect and illegal traces
Insufficiently mitigated risks
Unimplemented mitigations
Failed tests
Unexecuted tests
Open deviations
Unreviewed items
Incomplete E-signatures
Items altered after review
Items not present in Word documents
Outdated items in Word documents
Inconsistent item states
Overdue dates
Consistency Coverage
The state of your current documentation quality at a glance. The consistency coverage visually summarizes how much work lies ahead before the documentation is ready to be scrutinized by the auditor.
The consistency coverage view gives direct access to the incomplete items and provides a tool-set for solving inconsistencies immediately.
Consistency Checks as guidance
Consistency checks can be applied as process guidance, triggering on-the-fly checks before saving information.
Set up control rules in workflow transitions to automatically verify that the entered information is consistent with the development process before it is committed.